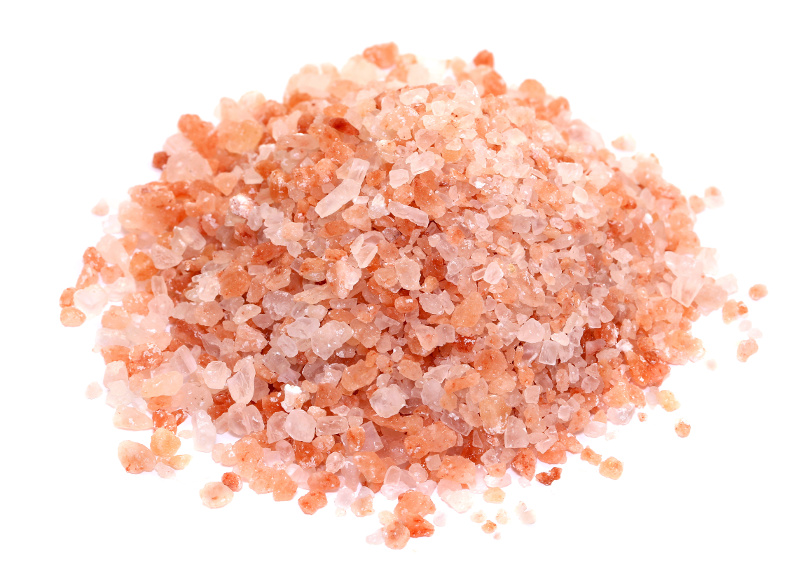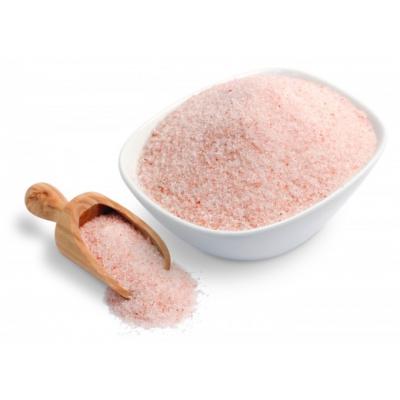 HIMALAYAN SALT
Did you know that Himalayan Salt, in contrast to standard kitchen salt, is a 100% pure natural salt that can offer many health benefits? This unprocessed or unrefined natural salt contains at least 84 minerals and trace elements that are essential for the proper functioning of our body including calcium, potassium, magnesium, sulfur, zinc and iron.
The only salt that the body can really digest, absorb and use is unrefined sea salt or rock salt. Our body consists for the most part of water and salt. In addition to water and oxygen, salt is indispensable and essential for the body: the interplay of water, salt and minerals forms the basis of our health. Himalayan Salt is an unrefined salt and completely pure in nature, it has retained all its original elements and what is just as important: Himalayan Salt is fully absorbable!
Common kitchen salt often only contains sodium chloride and added iodine. It tastes salty, but adds very little to our health. Moreover; sodium raises our blood pressure. Table salt is processed very heavily, so that the minerals are lost.
Commercial table salt consists on average of 97% to 99.9% pure sodium chloride and is completely stripped of most minerals, with the exception of sodium and chloride. It is then bleached, cleaned with chemicals and heated at extremely high temperatures. The iodine added to table salt is almost always synthetic, which is difficult for our bodies to absorb. It is treated with anti-caking agents that prevent the salt from dissolving in water and clogging in the salt container. These same agents then prevent the salt from absorbing in our own body, leading to a build-up and deposition in the organs. This can cause serious health problems. Too much processed salt can also be the origin of, among other things, high blood pressure and cardiovascular diseases.
 


POSITIVE QUALITIES:
Suitable for external use both cosmetically and therapeutically.
Suitable for use in the kitchen as a replacement for standard kitchen salt.
Contributes to the detoxification of the body.
Pink Himalayan salt has a lower sodium content than the normal kitchen salt.
Rich in trace elements and minerals.
Also suitable for use in a steam bath, salt bath or sauna.
Pure unrefined natural salt.
Support for a healthy vascular system.
Supports healthy lung and airway functions.
Supports a stable pH balance in the cells.
Contributes to the reduction of the signs of aging.
Contributes to a healthy sleep pattern.
Contributes to the increase in libido.
Supports in preventing muscle cramps.
Supports increased hydration.
Contributes to the strengthening of the bones.
Contributes to normal blood pressure.
Supports blood circulation.
 


THE ORIGIN OF HIMALAYAN SALT
Himalayan Salt is the most high-quality form of natural salt. It is a 100% natural unrefined salt that comes from the primeval seas that occurred millions of years ago in the Himalayas of Pakistan. it contains no artificial additives. This rock salt, at least 250 million years old, has retained all its good qualities in its completely pure form, it is considered the most nutritious salt in the world!
The Himalayan Salt is mined by hand and is also available in crystallized form as salt blocks or salt stones. These Himalayan Salt Stones are cut in various shapes. The Salt Stones are processed by hand into Himalayan Salt Lamps in various forms or Himalayan Salt Stones for culinary use in the kitchen or on the barbecue.
Himalayan Salt has traditionally been regarded as particularly precious and medicinal in the area of ​​origin. According to tradition, it comes from the primeval water at the time of the creation of heaven and earth. Deep in the interior of the Himalayas, this primeval water was transformed into a salt crystal in which this creative power is stored. This salt myth appears to correspond wonderfully with the scientific facts. Life originated in the water, the so-called primal soup. The primordial soup or primordial sea contained the nutrients of life, the elements that also make up our bodies. The Himalayan salt comes from the dried up parts of the primeval sea and contains the vital elements in their original composition and proportion.
APPLICATIONS OF HIMALAYAN SALT
Himalayan Salt is extremely suitable for use in the kitchen as a replacement for standard processed kitchen salt. You can use it in sauces and marinades, desserts or add it to your dishes. To preserve all positive traits, it is best to add after the preparation of the dish.
Himalayan Salt can be purchased in fine grain, but it is also available as coarse Himalayan Salt with larger crystal sizes.
Another known variant of Himalayan Salt is the Black Himalayan Salt, also called Kala Namak or Indian Black Salt. This salt is especially known by vegans to add an "egg flavor" to dishes. It has a specific sulfuric taste and is highly appreciated by enthusiasts!
HIMALAYAN SALT BLOCKS OR SALT TILES

Himalayan Salt Blocks are hand-mined salt blocks. These salt blocks consist of crystallized Himalayan salt, these are sometimes called halites. These salt stones are subsequently processed into, for example, tealight holders, salt lamps or salt blocks for culinary use.
The Himalayan Salt Blocks for culinary use have become a real "hype" and are very suitable for keeping (starter) dishes warm or cool for longer, or as an alternative to a stone grill at the table.
These Salt Blocks are very versatile and can be used in various ways for lightly salting all your dishes! The Himalayan Salt Block gives all your preparations a slightly salted touch and ensures that less salt is used than if you were to season your preparations yourself. Due to the presence of many minerals, this gives a much more complex taste than salt alone, its salt taste is very refined and very friendly to your taste buds.
Here you will find more information about the use of the Himalayan Salt Block.
A Himalayan Salt Lamp is a decorative indoor lamp made from a hollowed-out block of crystallized Himalayan salt that is mounted on a wooden base. The light bulb inside heats the salt lamp. A Himalayan Salt Lamp is not only a beautiful decorative light source that immediately brings a pleasant atmosphere, a salt lamp also has many advantages and positive properties. This is also the reason that more and more people buy this lamp at home. Due to the distinctive pink tones of Pink Himalayan salt, most Himalayan salt lamps radiate a beautiful reddish pink glow.



HIMALAYAN SALT AS A COSMETIC PRODUCT
Nowadays, Himalayan Salt is also used for wellness and therapeutic purposes. A Himalayan salt bath, for example, has a cleansing and vitalising effect that removes waste from the body. Himalayan Salt contains nourishing and skin-friendly minerals that stimulate blood circulation and help soothe sore muscles. Use approximately 400 to 500 grams of salt per 50-liter bath, 2 to 3 times a week at a temperature of around 38 degrees. The use of other additives such as soap or oil is not recommended.